MACOMB POLICE ACADEMY HONORS 2 LEADERS WITH WEILER AWARDS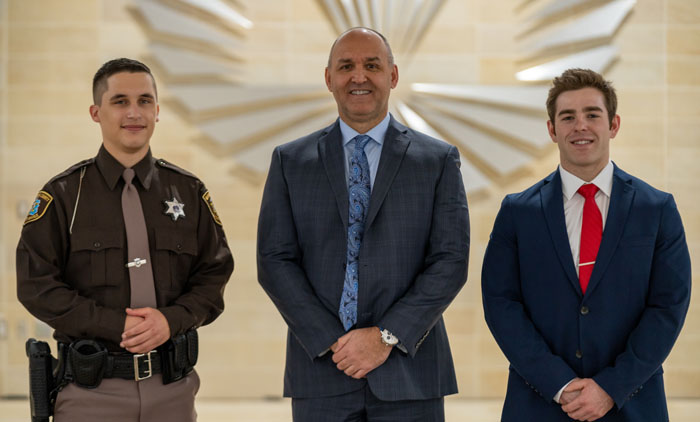 By Jennifer Gomori, POJ Editor
Two Macomb Community College Police Academy graduates were selected to receive Richard R. Weiler Scholarship Awards for taking the lead and inspiring their fellow classmates. Garrett Lauzon and James Lietzow were honored with the $500 Awards during Macomb Police Academy's graduation ceremony Dec. 19, 2022.
They were among 11 pre-service cadets who paid their way through the academy. The remaining 11 graduates were in-service cadets. The Richard R. Weiler Scholarship Award, which is sponsored by the Police Officers Labor Council (POLC), is given twice yearly at the discretion of the college police academy to graduates who have not been sponsored by any police agency. To qualify for the $500 Award, cadets must pass the Michigan Commission on Law Enforcement (MCOLES) Standards licensing test and meet MCOLES employment standards to become licensable as Michigan Law Enforcement Officers.
"Both of these cadets have been amazing to watch grow into future public servants," said Michael Ciaramitaro, Macomb Police Academy Director. "They have become disciplined and professional, and are outstanding examples of what our future law enforcement professionals should be!"
GARRETT LAUZON
Garrett Lauzon
Garrett Lauzon, 21, graduated from the academy with an 89.86 percent. He earned two associate's from St. Clair County Community College - one in Mechatronics (mechanical and electrical engineering) and his second in Criminal Justice Generalist.
"I started going to college at the age of 16, full-time. I was able to do that," Lauzon said. "My dad is in engineering, so I thought I'd do what he does. When I was going through school, I thought I would like to help others – change someone's life for the better and have a more fulfilling career – so, I switched over to Criminal Justice."
By 2020, he started working part-time as a Henry Ford Macomb Hospital Security Officer. In 2021, he was also hired as a part-time Cadet with Marysville Police Department.
"I wanted to see if I would enjoy the atmosphere and enjoy the job," Lauzon said of his position with Marysville PD. "I really enjoyed it. I fit in real well and I felt like it was the right spot for me."
So he returned to college to pursue his Criminal Justice degree while working both jobs. "In Marysville, they are transferring over to Public Safety," Lauzon said. "I was offered to go to St. Clair County Fire Academy and they would pay tuition. I worked two part-time jobs and went to the fire academy at night. I graduated with my associate degree the month before."
He graduated from the fire academy and completed his Criminal Justice degree by June 2022. "I had two months off and started police academy in August," Lauzon said. "That's when I stopped working in Marysville and the hospital."
Lauzon was hired by Macomb County Sheriff's Office immediately after the academy. The newly hired Deputy began work Dec. 20, 2022. Lauzon is the second in his family to join law enforcement. His uncle, Kevin Nowhisky, is a St. Clair County Sheriff's Deputy and School Resource Officer.
"Cadet Lauzon was nominated by several of his fellow cadets for the MCOLES Outstanding Leadership Award, the most prestigious award in the academy," Ciaramitaro said.
While he did not receive the MCOLES Award, he was appreciative of the nomination. "I like helping others and taking charge in some situations," Lauzon said. "I just try to help if anyone is struggling, no matter what."
Lauzon was honored and thankful for the Richard R. Weiler Scholarship Award. "It was cool being recognized with the (Weiler) Award," Lauzon said. "I had to take out a pretty big loan for the police academy because I couldn't work during the academy. It helped with my school loan payment and my bills because I live on my own, with my fiancé."
JAMES LIETZOW
Weiler Scholarship Award recipient James Lietzow, 25, is living up to his namesake. He's the third James Lietzow in his family to pursue a career in Law Enforcement.
James Lietzow
His father, James Lietzow, is a U.S. Customs and Border Patrol Officer and his paternal grandfather, James Lietzow, is a retired Customs and Border Patrol Officer. But, that's only half the story. Cadet Lietzow's maternal grandfather, Brian Brunnette, is a Detroit Police Department veteran and his uncle, Jeff Lietzow, is a Michigan State Police Trooper.
Lietzow, who graduated Macomb Police Academy with an 86.31 percent, was immediately hired as a Troy Police Officer after graduation. He received his associate's degree in General Studies from Macomb Community College.
Lietzow, like Lauzon, was also a source of motivational leadership for the class.
"He has demonstrated his leadership through his physical abilities and dedication to fitness," Ciaramitaro said. "He has been consistent in his encouragement of his fellow cadets in this and other areas."