City of Caro DPW impressed by knowledge, quick response of GELC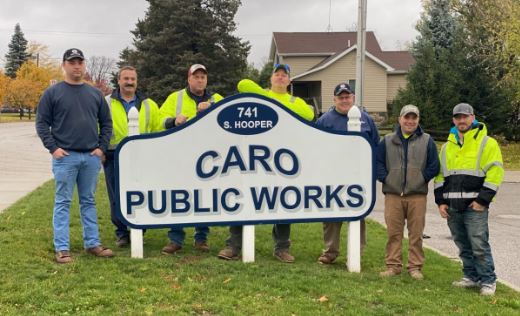 Posted by: jgomori Posted date: December 12, 2022
---
By Jennifer Gomori, POJ Editor
City of Caro DPW Employees were having trouble getting their questions answered by their former Union representation, so they began looking for someone who could. They found the GELC and voted to join the Union in May 2022.
The nine-member group had been represented by American Federation of State, County and Municipal Employees (AFSCME).
"We were not getting any representation at all from the other union," said Evean Gunsell, City of Caro DPW Local Union Chief Steward. "We tried to contact them. They wouldn't return our phone calls. We had one guy (in our unit) who kept asking for the City Charter and it took her four months to get us that."
Their experience with GELC Labor Rep. Christopher Watts has been exactly the opposite. In fact, Gunsell said one of the things that has impressed City of Caro DPW Employees most about the GELC, is how quickly they receive a response from their new Labor Representative. Watts either immediately answers, or if he is busy with another labor unit, he responds that he received the message and will contact Gunsell as soon as he's available.
"If I text Chris or call him, within minutes I hear back," he said. "That's just awesome compared to the other union we had."
The GELC bargained a three-year contract, effective July 1, 2022, for the group with a total of 17 percent in raises during the contract.
"They got huge raises," Watts said. "They got just over 9 percent for year one and just over 4 percent for years two and three."
"Everybody was pretty happy with what we got," Gunsell said. "We were underpaid compared to other surrounding cities."
Employees are now rewarded for every water and sewer license they receive with a boost in pay of $.25 cents per hour for each license.
"If you get any water and sewer licenses you make more money," Gunsell said. "It was standard before this contract but before they only paid for two licenses and now we get paid for every license we get."
That can add up quickly with eight water licenses available and four sewer licenses, he said.
City of Caro DPW Employees received three Personal Days to use at their discretion and two additional paid Holidays. Employees receive an additional $1 per hour when they are on-call. Those who choose to opt out of health care coverage receive up to $3,600 per year.
"Everything we got was a gain," Watts said. "They had 12 Sick Days, but whenever they used a Personal Day, the Employer took it out of their Sick Bank. They gained three Personal Days to be used for their personal business."
"It was definitely one of the best contracts we've ever gotten," Gunsell said. "Our Rep. is amazing. He's very knowledgeable. He definitely knows what he's doing. It only took a couple days for negotiations, that's it!"