The NHL Detroit Red Wings is teaming up with the National Law Enforcement Officers Memorial Fund (NLEOMF) on Thursday Dec. 7, 2023 for their annual Hometown Heroes Night. All law enforcement, first responders, public safety, corrections, families, friends, and the general public are invited to watch the Red Wings take on the San Jose Sharks during the 7 p.m. game at Little Caesars Arena.
Download:

detroit-redwing-dec-7-2023.pdf
Submit your TOP COP Nominations today! Please take the time to nominate examples of outstanding police work for this prestigious award. NAPO counts on you, our members, to help us get the word about TOP COPS out and obtain nominations for officers nationwide. The nomination form can be found on our website, and it must be postmarked or faxed to (703) 684-0515 by Jan. 12, 2024.
Karoub Associates has released the November 2023 Karoub Report featuring the passage of legislation for the year.: ENERGY PACKAGE HEADED TO GOVERNOR The Legislature gave final approval this week to a package of energy bills that align with Gov. Gretchen Whitmer's MI Healthy Climate Plan.
Download:

Karoub Report-11.10.23.pdf
The Officer Safety and Wellness team at the National Law Enforcement Officers Memorial Fund (NLEOMF) has completed an in-depth examination of law enforcement fatalities linked to the use of tire deflation devices, also known as "spike strips.
Register today and join NAPO Jan. 28 - 30, 2024 at Caesars Palace in Las Vegas for NAPO's 35th Annual Police, Fire, EMS & Municipal Employee Pension & Benefits Seminar. Our goal for the Pension & Benefits Seminar is to educate pension and union representatives along with their providers on the latest issues surrounding the pension and benefits industry.
By Jennifer Gomori, POJ Editor The POLC negotiated substantial wage increases for Genesee County Dispatchers and Dispatch Supervisors mid-contract to address hiring and retention issues. The re-opener agreements, effective April 11, 2023, garnered 20 percent wage increases for Dispatchers and 12 percent wage increases for Dispatch Supervisors with additional monetary benefits.
Reflecting the fall season, the Fall 2023 Police Officers Journal marks some noticeable changes for the Unions. The Journal features an article about new POLC/GELC Director Jim Stachowski, who assumed the Union's top leadership role in July.
By Jennifer Gomori, POJ Editor Gov. Gretchen Whitmer signed House Bills 4438 and 4439 into law today, extending immediate binding arbitration rights to county corrections officers and university police officers throughout the state.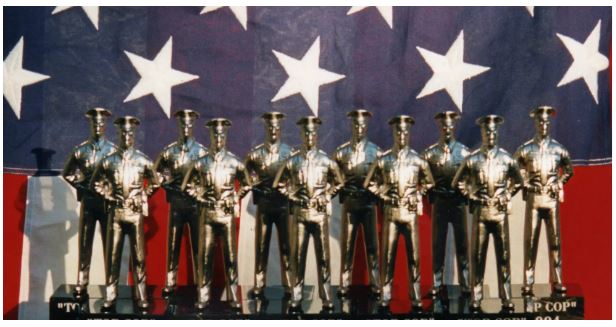 Nominate a fellow law enforcement officer who has gone above and beyond the call of duty for a 2023 NAPO TOP COPS Award today! Nominations for the 31st Annual TOP COPS Awards® are being accepted prior to Jan. 12, 2024.
Download:

TOP COPS 2023 NOMINATION FORM.pdf
NAPO pledged its support for the Lower Costs, More Transparency Act, H.R. 5378 which would promote price transparency in the health care sector, including for prescription drugs.